Blue nitrile powder-free gloves with rolled edges for single use. Good alternative to latex gloves (if allergic). Provide hands protection against chemical products and high resistance against mechanical hazards. Intended to come into contact with foodstuffs, except fatty food. Textured finish for better grip.
Description
Gloves designed in high quality blue nitrile, powder-free, ambidextrous, 5-finger, rolled-edge and non-sterile.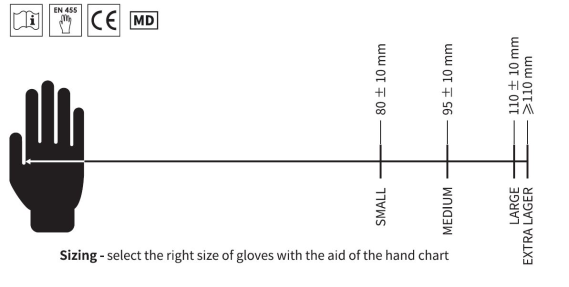 These nitrile gloves are available in a choice of 4 sizes (S to XL). For more information on sizes, see the size guide below.

Gloves are sold in a dispenser box of 100 gloves. It is also possible to buy these gloves in boxes of 1000 gloves (i.e. 10 dispenser boxes of 100 gloves)
- Powder-free, non-sterile. Ambidextrous.
- Disposable nitrile rubber gloves. Natural latex free.
- Store in its original packaging in a dry and dark place between 10 °C and 30 °C
•    Complies with regulations / standards (EU) 2017/745
      EN ISO 13485:2016, EN ISO 14971:2019, IEC 62366-1:2020,
      EN ISO 15223-1:2016,EN 455-1:2020, EN 455-2:2015, EN 455-3:2015,
      EN 455-4:2009, EN 1041:2008, EN ISO 10993-1:2018,
      EN ISO 10993-10:2016 , EN ISO 10993-12:2012
(See the data sheet for a complete description of the regulations.)
Nitrile disposable examination gloves protect and are intended to be worn to protect hands and fingers from chemical hazards. The gloves can also be used in contact with food and are intended for single use.
Advice for use :
Gloves suitable for protection against minor risks only.
Nitrile gloves sold in a cardboard dispenser box, very convenient for storage and distribution.
These single-use gloves should be discarded after use and stored in their original packaging away from light, moisture and extreme temperatures.
Disposable blue nitrile gloves - box of 100 units
Data sheet
| | |
| --- | --- |
| Colours | blue |
| Fingertips thickness | 0.10 mm +/- 0.02 mm |
| Palm thickness | 0.07 +/- 0.02 mm |